When getting ready to list your property for sale, it may seem tempting to get through some improvements to help lift your sale price. However, not all improvements are equal. With labor shortages in many of the construction trades all over the Bay Area, getting quality people can be tough. Additionally, materials shortages are still prevalent with many appliances.
While these shortages might be a momentary thing, many folks in the San Francisco Bay Area often have to deal with a number of factors when getting home improvement projects done. So, it makes sense to prioritize your improvements by considering your return on investment.

Obviously, some improvements might be different if you're in San Francisco's East Cut versus a single-family home in Oakland, but have a look at our list below to see what makes the most sense for your situation.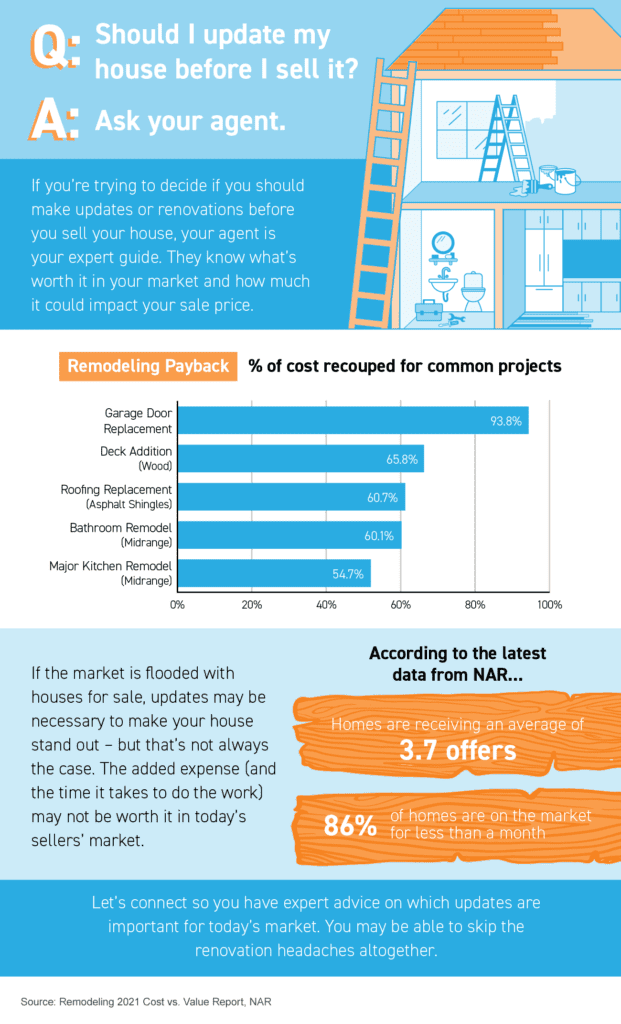 In today's market, the Bay Area is still experiencing a supply shortage, so demand is high. Experts predict supply won't be met for a few years.
Also, with lower interest rates, many buyers are rushing to buy a home before rates start to climb. While money is cheap right now, it might actually hurt you in the long run if you engage in lengthy repairs before you sell. Looking at the chart above, garage doors and roofing replacements are usually a little bit more manageable in the current climate. Local markets vary, so you might want to reach out to an agent to see what the climate is like.

By contrast, if you've been wanting to renovate your kitchen before a sale, it might be better to just put your home on the market. Plumbers, electricians, and tile setters are all backed up, and along with kitchen appliances in short supply, a kitchen renovation might wind up taking months instead of weeks. The same can be said of bathrooms.
If you've been thinking of renovating before putting your home on the market, reach out and speak to one of our agents. We might be able to connect you with our long list of vendors and let you know which renovations might be worth your time. Expertise is key, and we've got a large supply of it. Hope to speak with you soon.