SocketSite remains one of the great reliable sources of information for San Francisco Real Estate Agents. So, in one of their latest posts, they talked about inventory going down slightly last month. How does that look in with regard to a larger context?
Comparisons to Previous Years
On a year-over-year basis, San Francisco's listed inventory levels have dropped 34% from a two-decade high last year.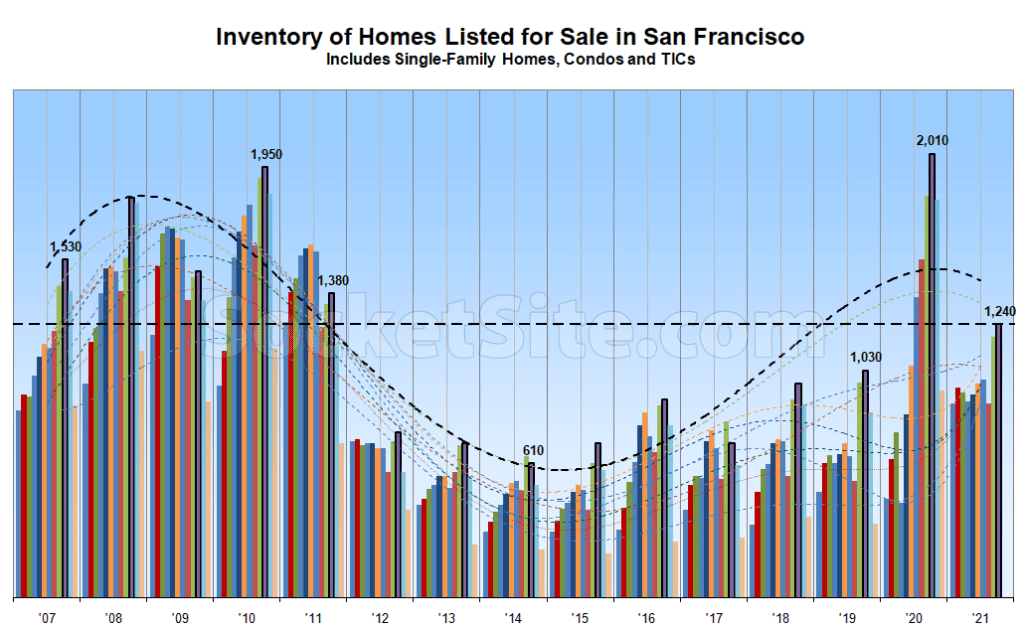 However, there are roughly 30% more properties for sale than there were at this time last year, before the pandemic, and over 90% more homes on the market than there were at this time of year in 2015.
A couple of weeks ago, SocketSite predicted the slight drop in a post:
"expect inventory levels to tick down over the next couple of weeks and then drop through the end of the year, with unsold inventory either withdrawn from the market and then re-listed as "new" in the spring or reduced,"

SocketSite, Oct. 18, 2021
San Francisco's housing market was described as being in "disarray" by Trulia founder Jed Kolko. According to the real estate website, the number of properties that have been reduced at least once has risen from 18% of active listings in mid-September, with an average list price per square foot which has only dropped below $1,000.
Adding to the current market conditions, interest rates have moved up slightly by 9 basis points. This is the highest rate we've seen in 6 months, and 5 basis points from the 16-month high.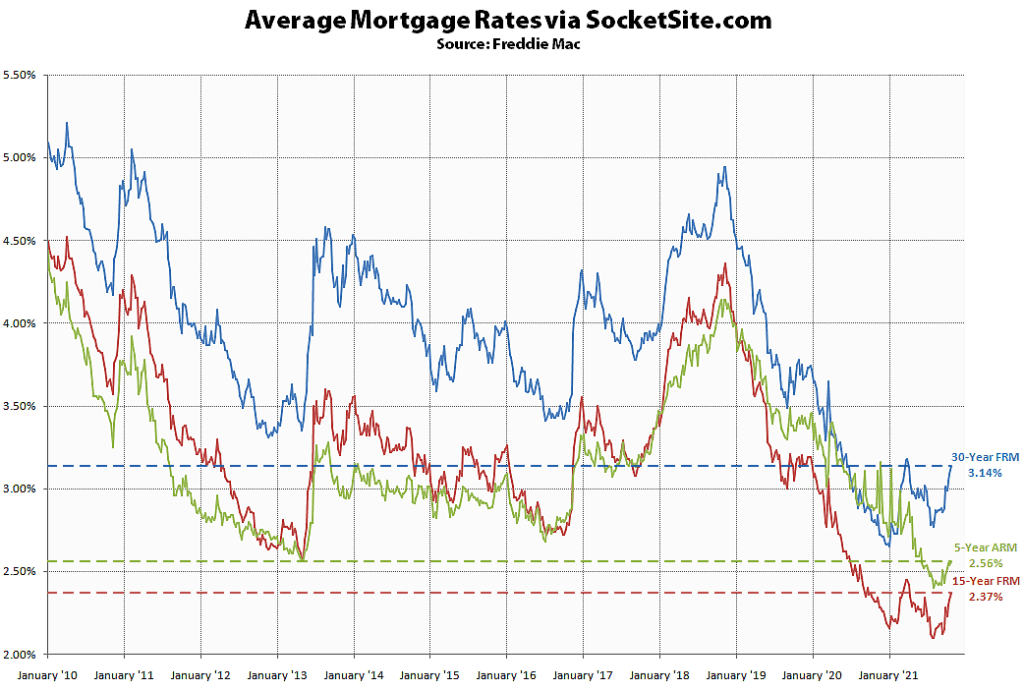 So if you're a seller or a buyer, what does it mean?
Well, speaking with our own Marcel Neri, he had some interesting insight. Many buyers know that with an increase in interest rates, buyer affordability decreases. In a normally balanced market, seller pricing would accordingly decrease to adjust with buyers. As stated above, we have seen some price decreases with the current inventory in the San Francisco market.
So, does this signal a price decrease overall of homes in the long term? Not likely. Demand in San Francisco is going to remain high. With the ups and downs of the pandemic-affected market in the rear-view, sellers are likely to stay relatively firm on pricing.
As a result, buyers in San Francisco, and to a large extent the Bay Area, will see their affordability decrease. However, one should not expect sellers to follow suit completely. What might up happening is that buyers might have to adjust their searches to start looking at things in their new, lower price range. That being said, most sellers will probably stay at their price because demand is so high at all price points.
Goldman Sachs expects inflation to pressure the Fed into increasing rates next July, and the effect on real estate markets is that they will respond accordingly. Pricing might drop in more balanced markets, but as we all know, the Bay Area is an outlier case with respect to the rest of the country.
So, what now?
If you're a buyer, you might want to start to zero in and get a deal done if you've been sitting on the sidelines for a while.
If you're a seller, you'll want to sit down with your agent to maximize your return. Saavy buyers are looking to get the most for their money ASAP.
If you want to speak with one of our agents on getting into a property or selling the one you've got to trade up, let us know. We're more than happy to help and discuss your options. We have the knowledge and expertise to get you through these unprecendented times.