Our team is committed to continuing to serve all your real estate needs while incorporating safety protocol to protect all of our loved ones.
In addition, as your local real estate experts, we feel it's our duty to give you, our valued client, all the information you need to better understand our local real estate market. Whether you're buying or selling, we want to make sure you have the best, most pertinent information, so we've put together this monthly analysis breaking down specifics about the market.
As we all navigate this together, please don't hesitate to reach out to us with any questions or concerns. We're here to support you.
– Kevin Gueco, DRE #01461677
Welcome to our July newsletter. This month, we take an initial look at the first half of 2020 in the context of the local, state, and national real estate markets. Since March, the pandemic has brought us largely into our homes. Many of us have learned through the last several months that the quality of our dwellings greatly affects the quality of our lives. Our time in our homes will likely continue as Governor Newsom began scaling back California's reopening on July 13 without a stated end date. During uncertain times like these, we continue to provide you with the most up-to-date market information, so you, our clients, feel supported and informed.
In this month's newsletter, we cover the following:
Key News and Trends in July: Across the United States, COVID-19 cases continue to rise as both the economy and rental markets struggle. Meanwhile, pending home sales set records nationwide.
July Housing Market Updates: San Francisco's single-family home prices climb to their highest levels in over two years due to a steep drop in new listings alongside growing buyer demand.
Key News and Trends in July:
Data released on July 8, 2020 by Johns Hopkins University, showed that California was among 12 states with record-high, seven-day averages for daily new coronavirus cases. California also saw a surge in the number of hospitalizations. Gavin Newsom said at a news conference on July 8th that over the previous two weeks, the state has seen a 44% increase in hospitalizations and a 34% increase in intensive care unit (ICU) admissions.
In our May newsletter, we cited the same sources, which predicted that nationwide hospitalizations would be near zero by July. Now, experts predict that hospitalizations will continue to trend upward as we head later into the year. This will prolong some of the negative economic effects that the pandemic has already induced—nearly one in every six California workers is out of a job, and many others face reduced hours.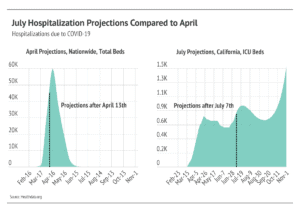 Meanwhile, the California housing market remains resilient. After falling to the lowest level since the Great Recession, California's monthly sales rebounded in June with the largest month-to-month increase in nearly 40 years – after falling to the lowest level since the Great Recession.
On July 13, California Association of Realtors President Jeanne Radsick said, "Home sales bounced back solidly in June after hitting a record bottom in May, as lockdown restrictions loosened and pent-up demand driven by record-low interest rates roared back. While the momentum is expected to be sustained as we kick off the third quarter, the resurgence in coronavirus cases remains a concern and may hinder the market recovery in the second half of the year." June's sales total climbed 42%. The month-to-month increase was the largest since CAR began reporting monthly sales in January 1979.
A strong surge in home sales in June provided support to home prices, as the statewide median price set a new record high after dipping briefly below $600,000 in May.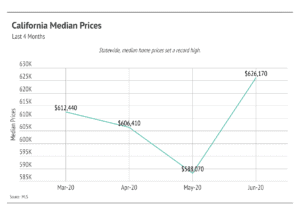 California's median home price reached $626,170 in June, improving 7% from May and 3% from June 2019. The monthly price increase was higher than the historical average price change from May to June and, in fact, was the highest ever recorded for a May-to-June change.
July Housing Market Updates for select Los Angeles luxury markets
In this newsletter, we break down three luxury areas in Los Angeles as follows:
West Side: includes Brentwood, Westwood, Beverly Hills, and West Hollywood
North Beach: includes Venice, Santa Monica, and the Pacific Palisades
South Bay: includes Redondo, Hermosa, and Manhattan Beach
In the month of June, single-family home prices rose on the West Side and the South Bay, and fell slightly on the North Beach. The West Side saw a small number (21) of very large transactions that more than doubled the median home price from May.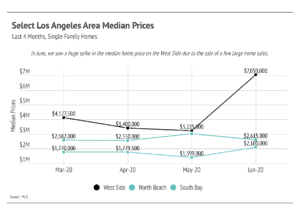 Looking at the yearly price data, single-family home prices in all three of the luxury markets were up compared to last year.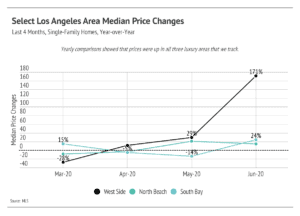 The Los Angeles luxury markets diverge from starter or investment homes, and broader city trends when it comes to housing inventory. Luxury market housing inventory has not been impacted as much. In June, all three markets had inventory levels within 10% of last year.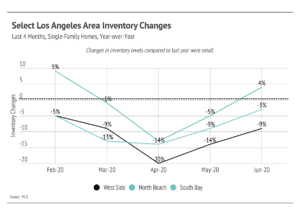 This differs from broader Los Angeles, where prices have been buoyed by lack of supply. City-wide housing inventory fell in June.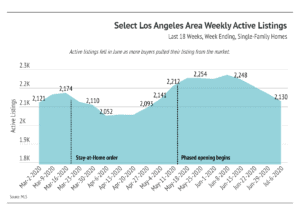 Buyers have been more aggressive. In all three luxury markets, sales trended back up towards their levels from last year. On the North Beach, June sales were only 14% lower compared to the previous year. Sales are still down by almost a third on the West Side and the South Bay, but they are making recoveries from steep drops in March and April.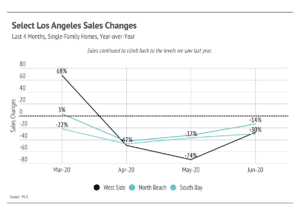 Similarly, Los Angeles continues to see strong buyer demand. Matt Levin, head Housing and Data journalist for CalMatters, argues that prolonged record-low inventory coincided with the huge millennial generation reaching home buying age. Much of these hopeful and credit-worthy home buyers built up the savings to meet tight lending standards. These home buyers still want access to homeownership.
This makes us cautiously optimistic; the rise in homes under contract tapered in June, coinciding with news of the prolonged pandemic.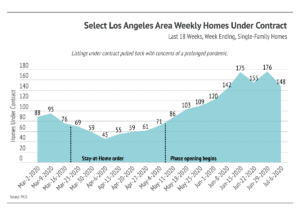 Months of Supply Inventory (MSI), the measure of how many months it would take for all the current homes for sale on the market to sell at the current rate of sales, has an average of three months in California. A number lower than three means that buyers are dominating the market and there are relatively few sellers; a higher number means there are more sellers than buyers. In June, the MSI for all three markets shrank. In the South Bay (MSI of 2), there are relatively few homes on the market compared to buyer demand.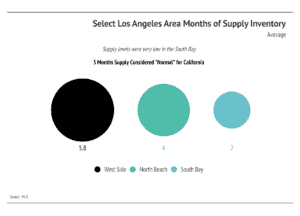 Higher prices indicate that there are not many bargains on the market. However, June's sale-to-list ratios—which compare the prices buyers pay to the original list prices of homes—suggests that buyers are also not paying large premiums due to bidding wars. In fact, buyers are negotiating significant discounts. The chart below illustrates the price that the average buyer negotiated, above or below list price, to put a property under contract.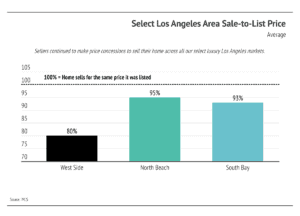 Lastly, we look at the percent of homes with price cuts. On the volatile West Side, only 10% of homes sold in June with a price cut, a steep drop from 40% in May. In the South Bay and North Beach markets, the percent of homes with a price cut remains relatively high. For single-family homes buyers, this means price cuts are more common and there may be an opportunity to find a home with a recently cut price.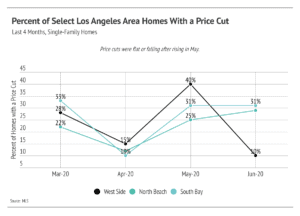 In summary, as we discussed in previous newsletters, the fundamentals of the housing market were strong before the global economy stalled, and they have continued to show stability. The prolonged pandemic will continue to cause fluctuations in the market, some of which can be measured weekly. It is now more important than ever to have access to the advice of real estate professionals.
Looking ahead to August, we anticipate the undersupply in housing to continue. The COVID-19 spike in California and across the country has created economic and personal unease. Sellers tend to be more timid during this time while buyers are more aggressive, feeding into the undersupply and lifting home prices. As more supply becomes available, there could be a correction in the market, but we do not believe that is likely through the summer months.
As always, we remain committed to helping our clients achieve their current and future real estate goals. Our team of experienced professionals are happy to discuss the information we have shared in this newsletter. We welcome you to contact us with any questions about the current market or to request an evaluation of your home or condo.