With all of these luxury condominiums in San Francisco, some San Francisco Real Estate Agents have taken the trouble to learn a few buildings inside and out. In order to give you a bit of an inside peek, the folks at Kinoko have spoken with our venerable agents. So, this is the first part of an ongoing series, the condo amenity check.
This month, we have a look at The Brannan. Long seen as one of San Francisco's best-managed buildings, The Brannan is located at 219, 229. and 239 Brannan Street. Located in the South Beach section of San Francisco, many enjoy the Brannan for its location and relatively sunnier weather. Being in South Beach, most of the homes in this area are condominiums.
Many of our agents have sold at The Brannan, so feel free to have a look at our current listing
What's at The Brannan? Well, here is a rundown with pictures.
Roundabout driveway
Deeded Parking
24-Hour Door Person
On-Site Security
On-Site Management
3,000 Square Foot Fitness Center
75-Foot Heated Pool
Jacuzzi
Landscaped Courtyard
Outdoor Entertaining Area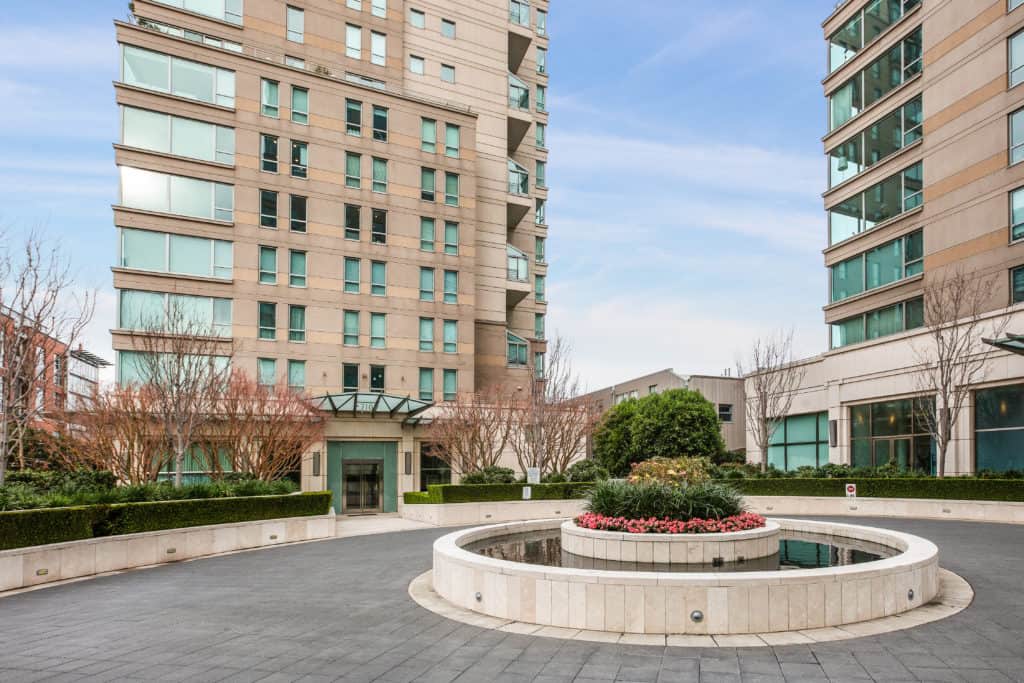 The circular driveway at the front of The Brannan is something more often found in some of the legacy highrises of San Francisco. Many San Francisco real estate agents will point out that a large number of newer construction condos in this area rarely feature so much space. Getting an Uber at The Brannan is a breeze.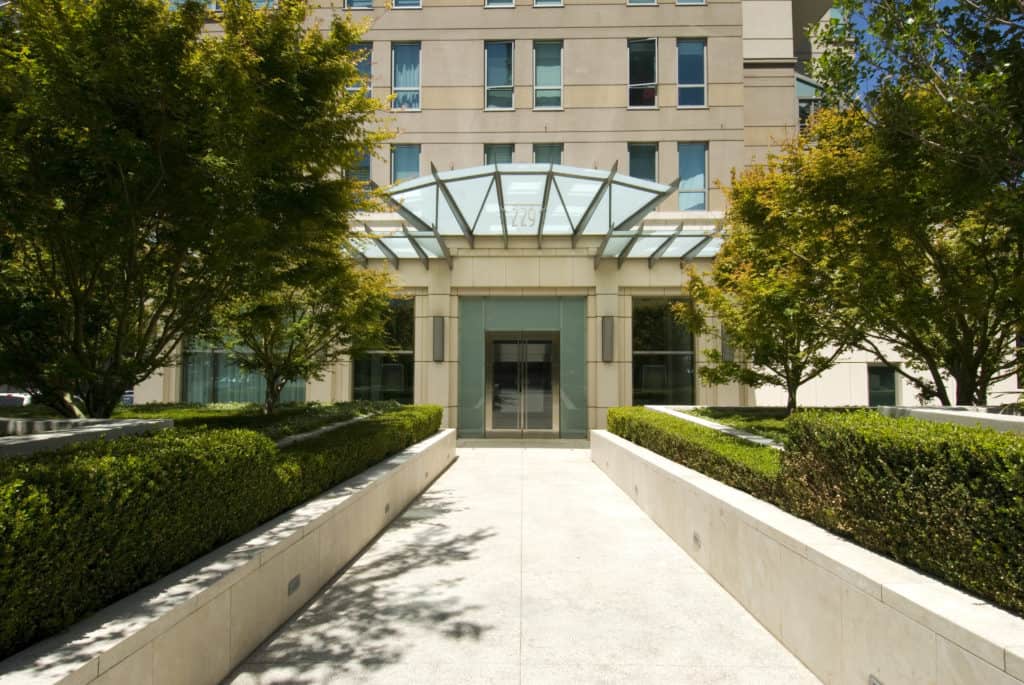 While construction finished in 2002, the Brannan still maintains a subdued and modern style, as observed above. This is the front entrance to 229 Brannan Street.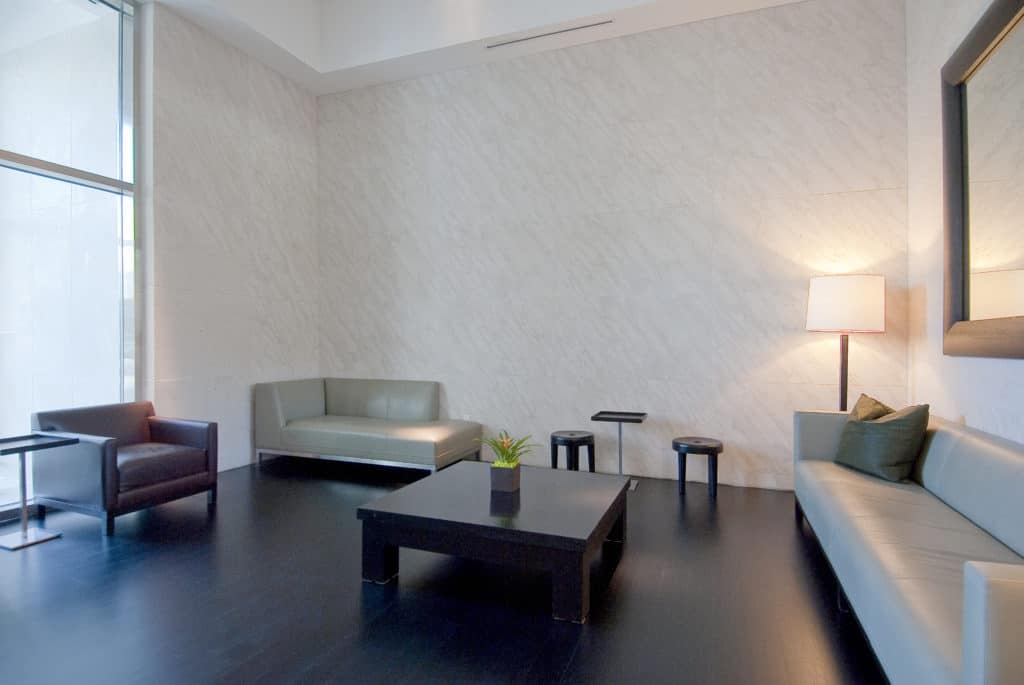 Again, the clean and minimalist design has helped the building maintain a contemporary look. Sometimes being too "of the moment" in design can be a disadvantage. Classic style choices are classic for a reason; often they withstand the test of time.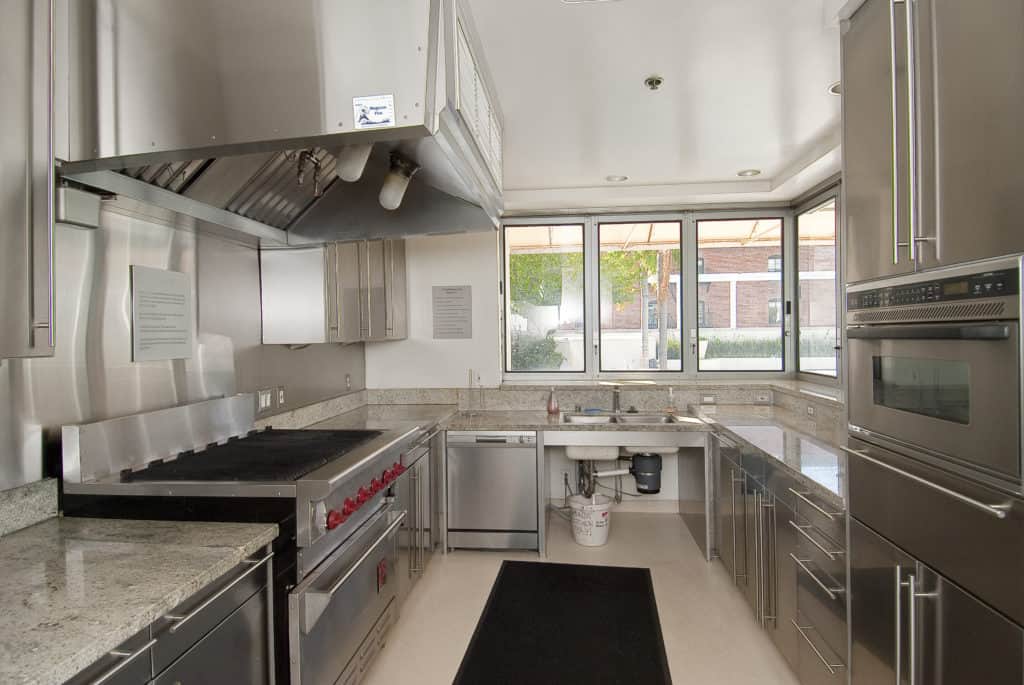 The Brannan features a full-service kitchen for entertaining large numbers of guests.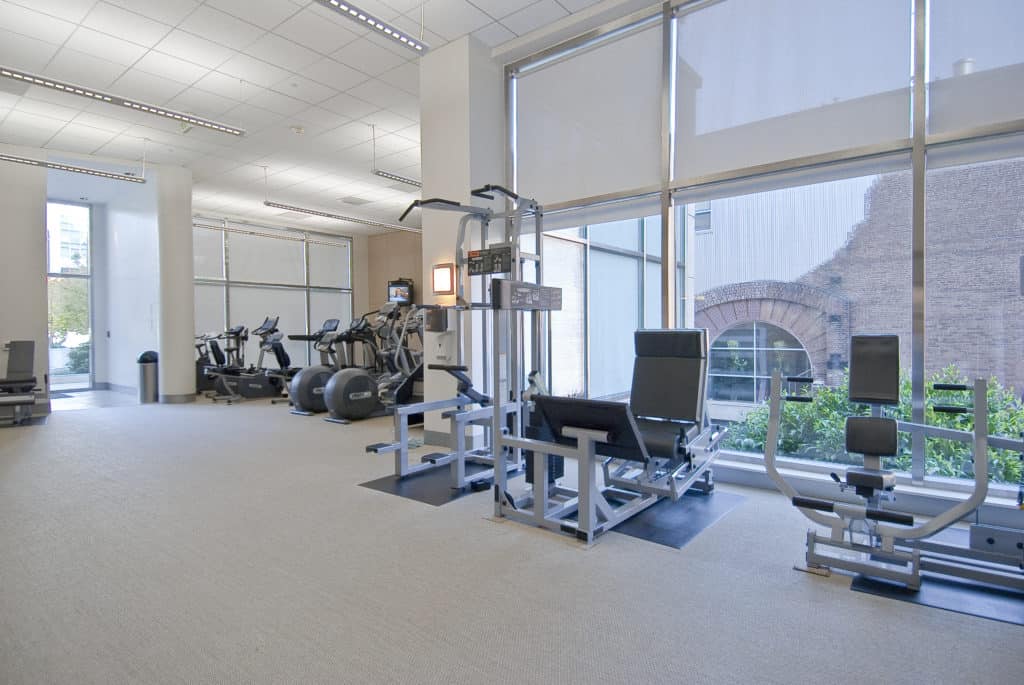 The fitness center at The Brannan is open and functional.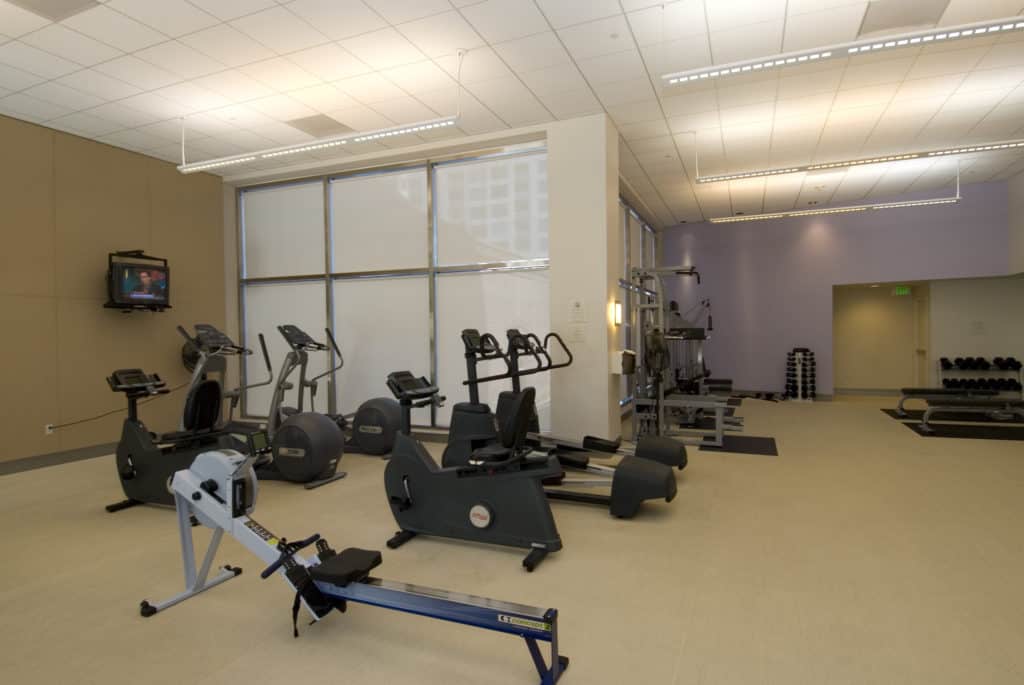 More fitness equipment.
Remember what was said about classic style? Well, the manicured courtyard at The Brannan is a great example of classic landscaping. Simple box hedges and benches make for a peaceful and open outdoor space. South Beach features much more sun than some of San Francisco's older neighborhoods. This leads us to one of The Brannan's best features…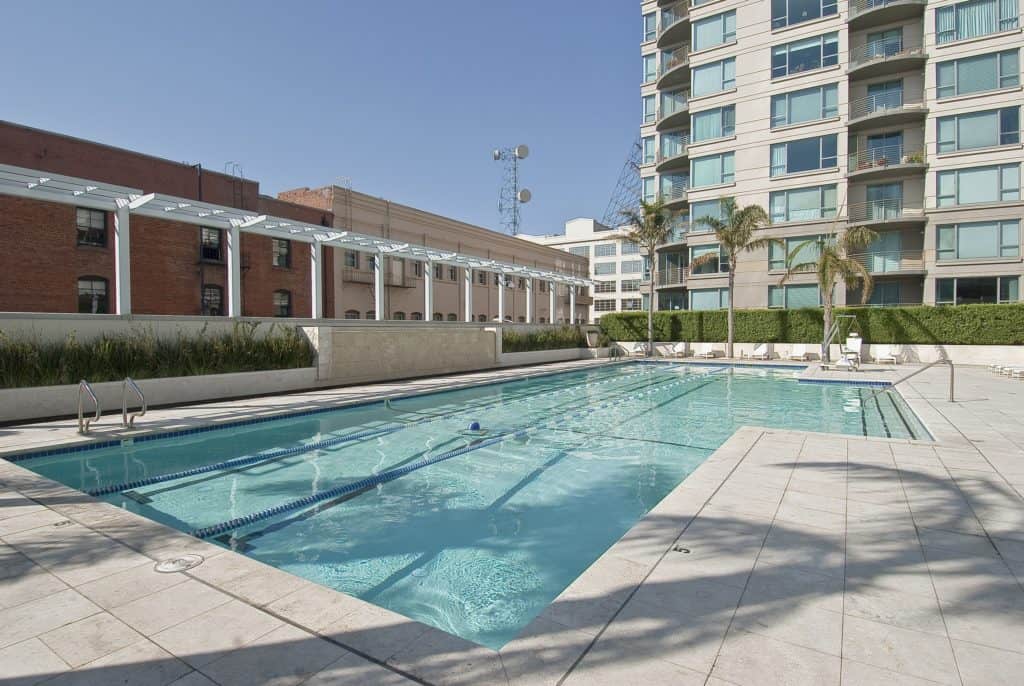 THE POOL! With warmer summers, the pool at The Brannan sees a lot of use. Not all luxury condominiums feature pools in South Beach. Buildings that do often become very desirable for buyers.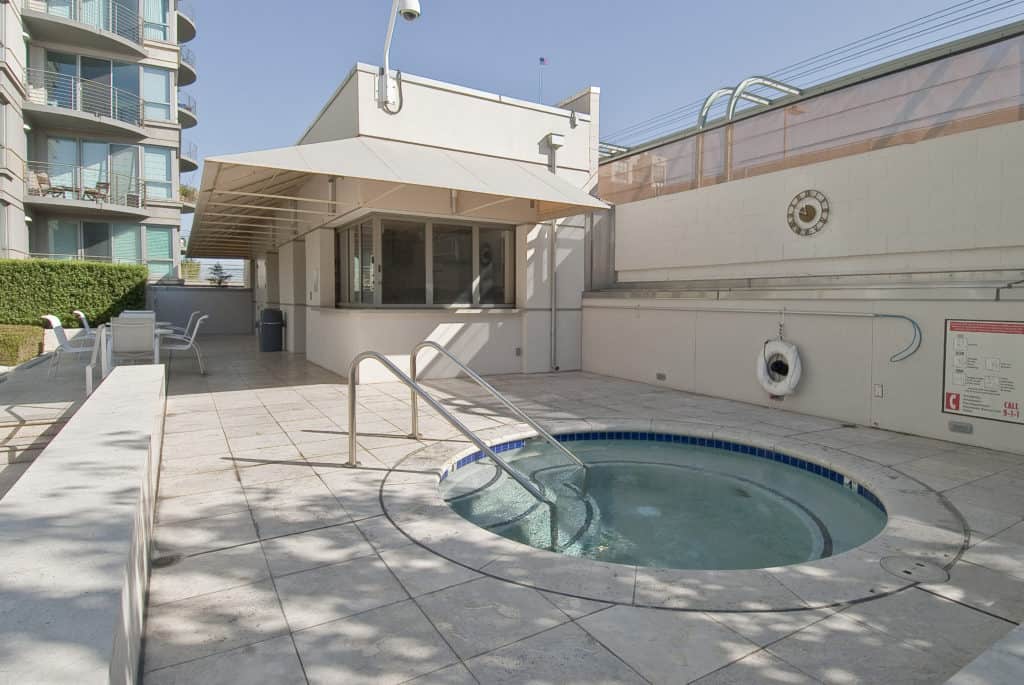 And a pool would be nothing without a jacuzzi. A simple feature, but, many will tell you, a nice one to have. It's a great place to relax after a rough day at the office and have a glass of wine. Oftentimes, you'll meet some of your wonderful neighbors over a Cab or maybe even some bubbly.

So, in closing, that is a quick look at The Brannan amenities. Interested in seeing some of the units for sale? Contact us, and we'd be happy to show you what's been going on in the building.