In our previous post, we focused on what is happening in San Francisco with regard to home sales and interest rates. Today, we're expanding the discussion to a more national level. Being a San Francisco Real Estate Agent often means having to differentiate between national and local trends. However, interest rates are an issue that has some kind of an effect on every market.
Mortgage rates are one of several elements that influence how much you can afford if you're buying a house.
When interest rates are low, they enable you to acquire a greater home for the same amount of money. Mortgage rates have recently hit their lowest point ever, and they've been in the historic-low range for some time.
However, during the last few weeks, rates have begun to climb. This past week, the average 30-year fixed rate was 3.14%.
What does this signify if you're thinking about relocating? You'll end up spending more in the long run if you wait until next year. Here's a look at what several experts predict for mortgage rates by 2022:
"The average 30-year fixed-rate mortgage (FRM) is expected to be 3.0 percent in 2021 and 3.5 percent in 2022."
Doug Duncan, Senior VP & Chief Economist, Fannie Mae:
"Right now, we forecast mortgage rates to average 3.3 percent in 2022, which, though slightly higher than 2020 and 2021, by historical standards remains extremely low and supportive of mortgage demand and affordability." 
"Consensus forecasts predict that mortgage rates will hit 3.2 percent by the end of the year, and 3.7 percent by the end of 2022."
If interest rates rise by half a percentage point over the following year, it will have an impact on your monthly payments throughout the duration of your loan – and this can really add up. As prices and mortgage rates rise, purchasing a house will become more expensive.
Rates will most likely rise in the months ahead, according to the quotes above. The following table summarizes other expert opinions and comes up with an average: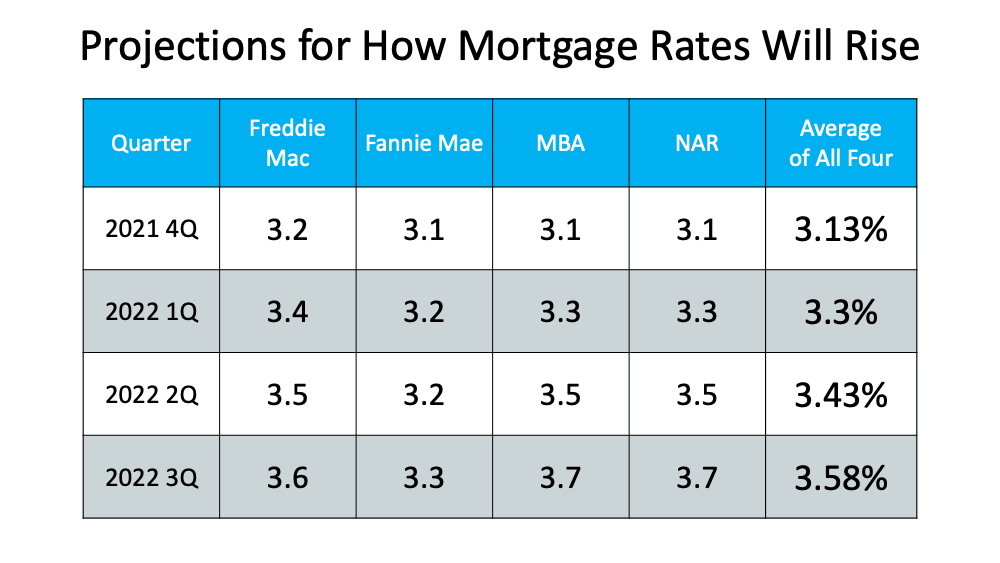 Before mortgage rates rise even higher, purchasing before then can help you take advantage of today's homebuying affordability.
That might be the game-changer that pushes you over the edge in your quest to buy a home.
In The End
If you're thinking of buying or selling over the next year, it may be wise to make your move sooner rather than later – before mortgage rates climb higher. Let us know, and we'd be happy to help.


The information contained, and the opinions expressed, in this article are not intended to be construed as investment advice. Kinoko does not guarantee or warrant the accuracy or completeness of the information or opinions contained herein. Nothing herein should be construed as investment advice. You should always conduct your own research and due diligence and obtain professional advice before making any investment decision. Kinoko will not be liable for any loss or damage caused by your reliance on the information or opinions contained herein.